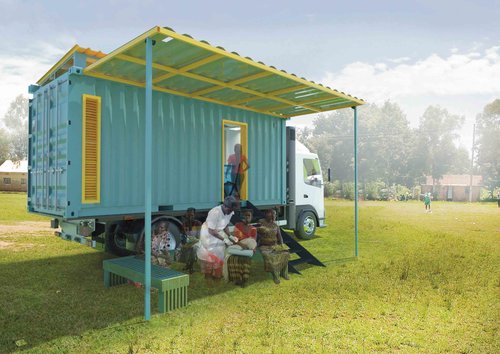 AREA
15 sqm
PROJECT TEAM
Doreen Adengo, Jonathan Kateega
COLLABORATORS
Solo Grid
PROJECT YEAR
2016

Adengo Architecture worked with renewable energy company SoloGrid to design a mobile medical clinic aimed at improving healthcare access in rural Uganda. The result is a shipping container modified for travel on the back of a truck. We provided an outdoor waiting area and, inside the truck, public and private consultation rooms.

The container's roof comprises a layer of corrugated metal sheets sloped to accommodate solar panels and direct rainwater into a water-storage unit. A purification system cleans the water, which is then directed to a sink inside the private consultation room.

Material selection focused on maximizing durability and minimizing weight to ensure longevity and ease of transport.